Energy flexibility is the key challenge for the future energy system. The estimated EU saving potential for waste heat is in the order of magnitude that could cover the EU's entire heating needs in residential and tertiary buildings. Our ambition is to develop, build and maintain innovative district heating & cooling grids that make this challenge affordable. Further integration of waste heat and renewable heat (e.g. geothermal) in the industry is part of this challenge.
In an ambitious collaboration VITO and Energyville invite its key partners to discuss a major innovation platform in this field:
Providing affordable thermal comfort: technological challenges and market uptake of geothermal solutions, low temperature heating & cooling grids and the role of thermal storage in the energy system.
Roll-out perspectives of geothermal energy in the EU: a large potential ahead
Geothermal solutions and advanced heating & cooling grids: the sustainable solution for affordablethermal comfort and electricity of the future
Can more efficient components and control systems contribute significantly to the affordability of district heating & cooling systems?
Thermal storage will become a integral part of our future energy systems
09.00 – 09.30

Experiences with geothermal energy: the Dutch way
Frank Schoof, Chairman - Platform Geothermie Nederland

09.30 – 10.00

Low impact geological exploration: preliminary results for magnetotellurics in densely populated areas
Virginie Harcouët-Menou - VITO

10.00 – 10.30

Regulation/Legislation for the deep subsurface to enable deep geothermal in Flanders
Jan Van Roo,Department head, LNE Flemish Government

10.30 – 11.00

Coffee & refreshments

11.00 – 11.30

Roll-out of geothermal in Europa: facts & figures EGEC
Burkhard Sanner, President – European Energy Council - EGEC

11.30 – 12.00

Development of a heat transformer to boost geothermal heat and waste heat
Erik Verdeyen - Qpinch

12.00 – 12.30

Update on the Balmatt project and the impact of geothermal roll-out in Flanders - Roadmap geothermie 2020
Ben Laenen – VITO

12.30 – 14.00

Lunch

14.00 – 14.30

The role of district heating and cooling in the EU in reaching renewable goals
Alessandro Provaggi – Head of the DHC + Technology platform – Euroheat & Power

14.30 – 15.00

Technological challenges in the development of low temperature thermal networks
Johan Desmedt, EnergyVille/VITO

15.00 – 15.30

The market potential for thermal networks in Flanders
Paul Gistelinck, director – EANDIS

15.30 – 16.00

Coffee & refreshments

16.00 – 16.30

Overview of technological solutions in thermal energy storage: trends & challenges
Stefan Gschwander, Fraunhofer ISE

16.30 – 17.00

Smart control for Borehole Thermal Energy Storage (KIC InnoEnergy project)
Hans Hoes, CEO - Terra Energy

17.00 - 17.30

Importance of thermal storage in the electrical system
EnergyVille, Johan Van Bael/Fjo De Ridder

18.00 – 21.00

Plenary evening session
PlanC Community Night – Clash of Ideas
The opportunity to meet with experts: energy system integrators, district heating & cooling companies, suppliers of heat/conversion components, energy city planners, EnergyVille research partners and many others
Discuss new initiatives on geothermal energy, heating & cooling and thermal storage
Be part of the selected group of VITO and EnergyVille experts on thermal optimisation to shape the energy transition
Participate in the exclusive plenary evening sessions of i-SUP2016 where high level keynote speakers will be our guest
Track chair and primary contact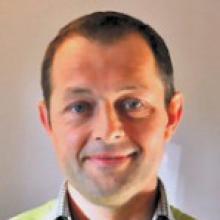 Strategy Developer Smart Cities-Sustainable Energy
EnergyVille-VITO