Tuesday 18 October and Wednesday 19 October
In whatever future scenario for the energy mix, the world will consume fossil fuels for at least 3 more decades in order to meet its energy needs. With emission of green house gases as a result, it is justified to try and close the carbon loop. With CO2 as an interesting carbon source, utilization of CO2 is therefore evolving from an academic interest to an economically viable technology. Carbon Capture and Utilization (CCU) is set to become a complementary tool in the Carbon Capture and Storage (CCS) landscape over the following decades. It will not be a matter of CCS or CCU, but and CCS and CCU, with integrated infrastructure. There are many challenges and barriers to the successful implementation of CCU, however these are not insurmountable and need to be actively addressed.
In an ambitious collaboration VITO invites its key partners to discuss the important challenges and opportunities in CCUS.
Important discussion topics
Fossil fuels: part of future energy scenarios – justification for closing the carbon loop
Carbon Capture and Utilisation (CCU) and Carbon Capture and Storage (CCS): complementary tools in a closed loop carbon landscape
CO2 utilisation - from academic interest to economically viable technologies
Challenges and barriers to succesful implementation of CCU to be actively addressed
CCU - opportunity for peak shaving and insurance of future access to chemicals and fuels supply
Tuesday, 18 October 2016 - Final programme
08.00 – 09.00

Registration and coffee

09.00 – 09.05

Welcome by Frans Snijkers (VITO)

09.05 – 09.30

CCU & Flemish Climate Policy
Jorre De Schrijver (Climate unit of the Flemish Government)

09.30 – 09.50

Contribution of CO2 capture research to lower CO2 emissions in Europe
Sven Van der Gijp (TNO)

09.50 – 10.10

Carbon Capture and Utilization - A new feedstock for innovative fuel production and chemistry
Achim Raschka (Nova-Institut)

10.10 – 10.30

The environmental potential of CO2 reactions: a screening study
Sarah Deutz (RWTH Aachen University)

10.30 – 11.00

Coffee break

11.00 – 11.25

Catalyzing a CO2-neutral society
Mark Saeys (Ghent University)

11.25 – 11.45

Electrolytic hydrogen generation in carbon reutilization schemes
Jan Vaes (Hydrogenics Europe)

11.45 – 12.05

Power-to-Methanol: where flexibility meets CCU
Karen Callebaut (Antwerp Port Authority)

12.05 – 12.30

Carbstone process: A proven technology to sequester CO2 in high quality construction materials
Dirk Van Mechelen (Recmix)

12.30 – 14.00

Lunch

14.00 – 14.25

Chemical Looping Combustion – A Carbon Capture Technology with nearly no Energy Penalty
Stefan Penthor (Vienna University of Technology)

14.25 – 14.45

CO2 reduction, from capture and storage to valorisation?
Chrystelle Verhoest (ENGIE LAB Laborelec)

14.45 – 15.05

Latest developments in CO2 capture from the air
Jan Wurzbacher (Climeworks)

15.05 – 15.30

Chemical valorisation of CO2 for Europe
Sophie Wilmet (Cefic)

15.30 – 16.00

Coffee break

16.00 – 16.30
CO2-neutral fuels
Adelbert Goede (Dutch Institute for Fundamental Energy Research DIFFER)
16.30 – 17.00
Carbon Dioxide-Based Products
Peter Styring (UK Centre for Carbon Dioxide Utilisation, University of Sheffield)
17.00 – 17.20
Biotechnological approaches for CO2 valorization
Heleen De Wever (VITO)
17.20 – 17.30
Wrap-up
Wednesday, 19 October 2016 - Final programme
08.00 – 09.00

Registration and coffee

09.00 – 09.05

Welcome by Frans Snijkers (VITO)

09.05 – 09.35

The Zero Emission steel plant of the future or how CCU can help to reduce the C-footprint of steelmaking
Eric De Coninck (ArcelorMittal)

09.35 – 10.05

HeidelbergCement's strategy and implementation of Carbon Capture Storage & Utilization
Jan Theulen (Heidelberg Cement)

10.05 – 10.30

Power to Protein - Capturing CO2 and recovering nitrogen at the waste water treatment plant by direct upcycling as microbial protein
Silvio Matassa (Avecom)

10.30 – 11.00

Coffee break

11.00 – 11.25

Potential of CO2 utilisation technologies
Aïcha El Khamlichi (French Agency for Environment and Energy ADEME)

11.25 – 11.50

Economics of carbon dioxide capture and utilization – a supply and demand perspective
Henriette Naims (IASS Potsdam)

11.50 – 12.15

Smart CO2 Transformation (SCOT): the way forward
Damien Dallemagne (GreenWin)

12.15 – 12.30

Wrap-up

12.30 – 14.00

Lunch
The opportunity to meet with experts in the areas of CCU
Discuss new initiatives for use and valorisation of CO2 and renewable energy surplus
Grab the chance to network and to share your expertise and knowledge with your peers in the field as well as with many other key industry representatives from leading companies
Be part of the selected group of VITO's specialists for this workshop
Participate in the exclusive plenary evening sessions of i-SUP2016 where high level keynote speakers will be our guest
Track chair and primary contact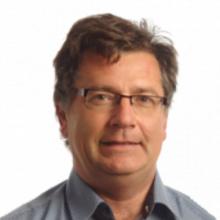 Team leader - Ceramic Materials and Powder Metallurgy
VITO