i-SUP2016 – Welcome Dirk Fransaer
Managing director at VITO and Chair of i-SUP2016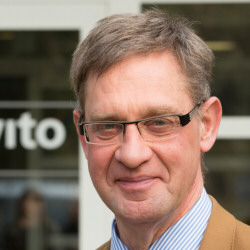 On behalf of VITO I would like to welcome you on our i-SUP2016 website. The 5th edition of this international conference focuses on sustainable production methods for energy, chemistry and materials management.
For the first time in i-SUP's history the expert seminars are on an invitation-only basis. This enables us to optimize your experience: ensure you get the most up-to-date information in your particular field of expertise as well as network opportunities with a unique blend of high-level speakers, industry participants, scientists and technologists.
The conference themes are chosen for their high industrial and societal value, both individually and in relation to one another. At VITO we see the interaction between energy, chemistry and materials as one of the largest opportunities for the coming decades. As sustainable energy becomes cheaper and more available, the need for storage in the form of materials or chemical processes is evident. At the same time new materials and processes will arise that were not possible before. Increased attention to heat and geothermal energy complement the mix of subjects on this conference.
I hope we meet at i-SUP, which will be organised in the historical town of Antwerp, home to many illustrious museums, shops and restaurants, and at the heart of Flanders's chemical cluster.